Dog Abandoned On Camera Can't Stop Smiling After Being Adopted

Warning: Use of undefined constant html5 - assumed 'html5' (this will throw an Error in a future version of PHP) in /home/doctruy3/123petworld.com/wp-content/plugins/facebook-like-send-button/class-frontend.php on line 85

Warning: Use of undefined constant linklove - assumed 'linklove' (this will throw an Error in a future version of PHP) in /home/doctruy3/123petworld.com/wp-content/plugins/facebook-like-send-button/class-frontend.php on line 95

Just a few months ago, Snoop the Staffordshire bull terrier was the loneliest dog in the world.
His owner had dumped him, along with all of the dog's belongings, on the side of a road in England — and it was all caught on camera. The footage, which made its rounds on social media, shows poor Snoop running after the car, clearly heartbroken to be left all alone.
After going through so much in the public eye, however, Snoop finally has something to smile about: He's been adopted. His new dad, Laurence Squire, couldn't be happier to be the lucky person who brings Snoop home.
"One evening I was watching the news when Snoop's story came on," Squire said in a statement. "What happened to him was shocking, and it was clear from the footage — in the way that he tried to get back into the car — that he was a loyal dog."
Snoop is definitely loyal — so loyal, in fact, that his rescuers from the RSPCA say he's prone to separation anxiety.
Luckily, Snoop's new dad works from home, so they'll be able to spend a ton of time together.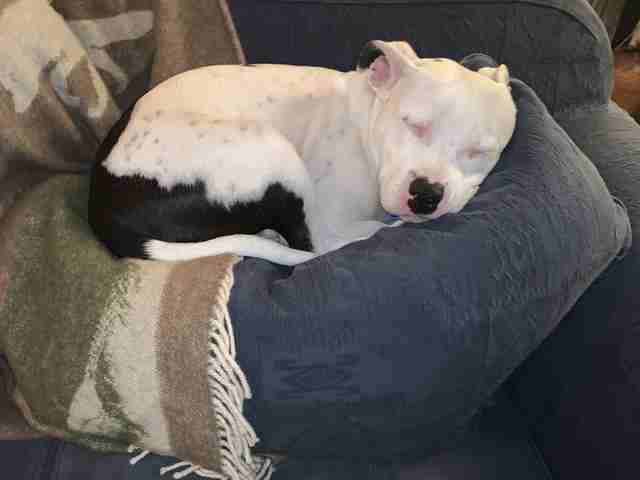 While it's only been a few weeks, Snoop is already settling in beautifully, and his new life couldn't be any more perfect for him. Rachel Butler, an RSPCA spokesperson, said Snoop seemed to be extremely comfortable with his new family on a recent home visit.
"The love and attention he is getting now from Laurence is wonderful," Butler said. "Snoop is living like a king."
RSPCA
Snoop is napping, playing and running around just like the happy dog he was always meant to be — but still, he doesn't let his new dad stray too far from his sights.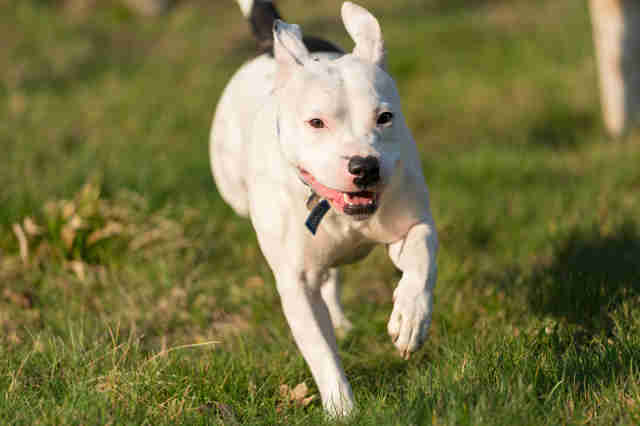 RSPCA
"I thought that he seemed like the perfect dog for me and that I could offer him the home he deserved," Squire said. "As soon as he came into the house for the first time, he jumped on the sofa and it was as though he decided that was the space for him! He loves to lie on the back of the sofa and if I put the fire on, he will curl up in front of it."